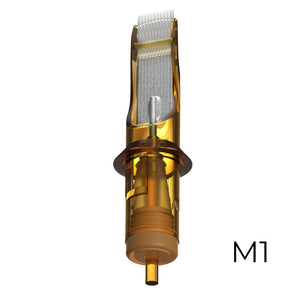 Sanatorium
Sanatorium Premium Tattoo Cartridges - M1 Magnum (Box of 20)
Regular price
£19.43
£0.00
Unit price
per
Tax included.
Sanatorium Premium Cartridges aims to offer the world tattoo artists more convenience in the daily work at an attractive price. Sanatorium Premium Cartridges offer ink flow, consistency, and protection. Sanatorium Premium Cartridges are designed with more than decades of needle crafting experience to achieve the gold standard that you've come to expect from Sanatorium.
Key Features
Safety Membrane drive System. Prevent causing excessive load to the machine motor and prevent ink leakage to the tube or machine.
Stable premium fine needles, Needle made of surgical grade 304 stainless steel.
100% EO Gas Sterilised and individually packaged, Medical-grade plastic.
Sterile and environmentally friendly packaging.
Completely transparent, perfect visibility enables you to focus on tattooing.
Parameters
Configuration:M1 Magnum
Needle Diameter: 0.30 mm
Box Quantity: 20 cartridges
Brown transparent housing
Single-mould casing
Medical-grade plastic tips
Safety membrane
Compatible with cartridge grips and most brand machines on the market.
---